---

Koguduse Teated / Notices

---
Koguduse õpetaja paranemine südame operatsioonist ja harjumine uue tervisliku olukorraga jätkub. SUUR tänu teile teie eestpalvete ja palvetoetuse eest. Au ja kiitus Jumalale!
SÕNUM INGLITEST
Ühed tähtsamad Jumala teenijad on inglid. Nimi ingel tuleb Uue testamendi algkeelest. See tähendab saadikut ehk sõnumitoojat. Inglid tõid sõnumi karjastele taeva laotusest Petlema kohal inimeste Õnnistegija Jeesuse Kristuse sündimisest. Inglid teatasid naistele Ketsemani tühjaks saanud hauas, et Jeesus kui Lunastaja on surnuist üles tõusnud ja nad saavad näha Teda uuesti elavalt.
Inglid on tähtsad üliloomulikud Jumala esindajad taevas ja maa peal. Inglid kuuluvad meie püha ristiusu sisse. Ingleid on nimetatud üle 300 korda meie usu Pühakirjas ehk Piiblis. Nad ilmuvad inimestele inimese väljanägemisega palju enam kui tiibadega. Tiivad on kunstnike poolt lisatud, et piltlikult näidata inglite taevalikkust ja pühadust.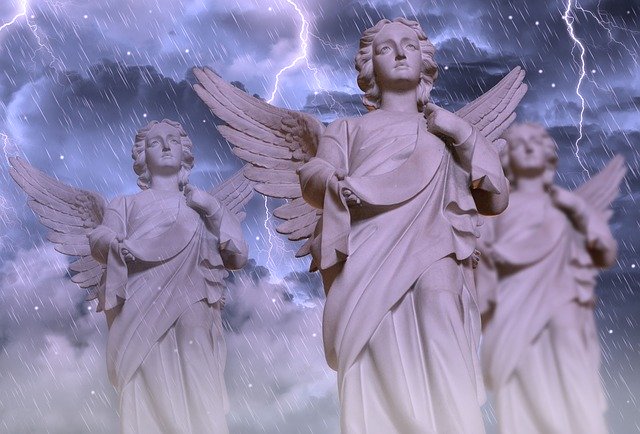 Inglid on osa meie lääne kultuuri kirjanduse, kunsti ja teaduse ajalugu. Tuntud ameeriklasest kultuuri uurija ja filosoof Mortimer J. Adler, kes oli Entsüklopeedia Britannica kirjastuse poolt väljaantud "Great Books of the Western World" 52 teosest koosneva valiku tegija ja sisu peaainete nimekirja koostaja, nõudis vankumatult -- isegi kirjastuse eitava meelsuse vastu -- et nimekirja esimene uurimisele võetav aine oleks inglid. Adler leidis uurides läänemaa kultuuri, et inglid on osa lääne kultuurist ehk kuuluvad lääne kultuuri.
Mitmete meie ajastu inimeste kogemused inglitest on seotud ingli käest abi ja kaitse saamisega ning raskest olukorrast päästmisega. Üks kristlane, kes kannatas hirmsasti usuvastaste vaenu käes ja vangistuses kirjeldas, kuidas ta tundis pimedas üksikus vangikongis olles ingli liginemist ja kinnitavad puudutust.
Tuntud evangelist Billy Graham kirjutas, et inglid on taevalised olendid, kes on loodud teenima Jumalat ja Jumala tahtmist. Uues testamendis on öeldud, et inglid on "teenijad vaimud, läkitatud abistama neid, kes õndsuse pärivad." (Heebrealastele 1:14)
Martin Luther kirjutas, et inglite taevaline kiituse laul: "Au olgu Jumalale kõrges ja maa peal rahu inimeste seas!" ütleb, et inglid teenivad Jumalat kogu oma "südamest" ehk kogu olemuselt, ja tunnistab, et Jumal ja inglid üksmeelselt armastavad meid inimesi. Laulame siis jõulude ja ülestõusmise ajal kiituse laulu Jumalale koos inglitega, sest meil on Õnnistegija ja Lunastaja, kes on Issand Kristus.
Billy Graham kirjutas raamatu inglitest milles ta kinnitas: "Piibel, aga, kinnitab meile, et kord meie silmade eest kaovad katted, ja me näeme siis, kui palju abi ja tähelepanu inglid on meile meie eluajal andnud.
Soovin teile inglite kaitset ja rõõmu jõuludeks ja uueks aastaks 2020!
Õpetaja Thomas Vaga
ABOUT ANGELS
Evangelist Billy Graham writes in his popular book of angels: "Angels have a much more important place in the Bible than the devil and his demons."
In the Bible we read that Abraham, Jacob, Moses, Joshua, Gideon, David, Elijah, Zachariah, Joseph, Mary and Peter, along with others, saw angels. Two angels are mentioned by name: Michael and Gabriel. Angels in the Bible are in many activities: climbing ladders, wrestling with people, taming lions, lifting great weights, announcing births, recruiting leaders, they are warriors in battle, executioners, performing miraculous rescues, opening prison doors, and comforting people.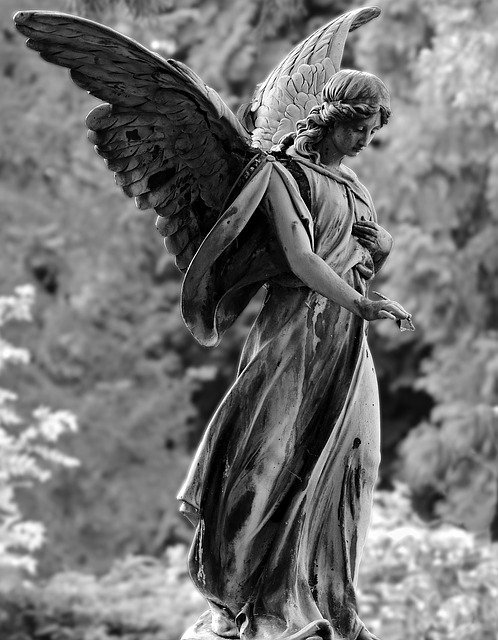 Many of us have experienced angels' help especially during our escape from our homeland during the war. Angels comforted those who were on the deportation trains to Siberia and prison camps. Many Christians in their suffering in communist prisons were visited by angels who strengthened and comforted them, and angels are still helping persecuted Christians in their suffering and despair.
According to the Bible we know, that angels are created beings, dignified, majestic, and intelligent. They are personal beings who always represent God. We are taught in our Christian homes and Sunday schools that we all have an angel, "Kaitseingel" in Estonian. Little is said about the appearance of the angels, but they can take on the physical form of a person. Billy Graham writes: "The Bible is very clear that only God is to be worshiped. God is helping us in an emergency through His angels, but we are never to pray to the angels."
This Christmas time we read that when an angel announced the birth of Jesus to the shepherds in the fields, suddenly a large army of angels appeared. They were praising God by saying: "Glory to God in the highest heaven, and on earth peace to those who have his good will." Martin Luther writes: "From the angelic song, we can learn what the angels are really like... this passage portrays angels so clearly that we can discern their thoughts and hearts... They enthusiastically give honor to God, the one to whom it belongs." The second characteristic of angels is that they love us. Here we see what wonderful, great friends the angels are to us. They love us as much as themselves, and they celebrate our salvation as if it were their own. The right way to understand angels is according to their inner heart, attitude, and mind. If you wonder what a humble, pure, obedient, and happy heart in God is like, then think of the angels praising God. Praise God and have a thankful heart.
Have a blessed Christmas season and beginning of the new Church year!
Pastor Thomas Vaga

KOGUDUSE LIIKMEMAKS ON $70.00 AASTAS
PALUN SAATKE LAEKURI AADRESSILE
Tsekk kirjutada: "Estonian Ev. Luth. Church of St. Paul" ja saata meie uuele laekurile: Rein Uibopuule. Palun mitte kirjutada tsekke Bogota koguduse nimele, kuna selle koguduse kassa on tühi ja sellepärast aitab New Yorgi Pauluse kogudus jumalateenistuste pidamist Bogotas ja liikmemaksud ja annetused lähevad NY Pauluse koguduse pangaarvele. Sellepärast on tähtis, et tsekid on kirjutatud "Estonian Ev. Luth. Church of St. Paul" -nimele.
YOUR DONATIONS ARE NEEDED AND APPRECIATED
From years back there is a tradition that the congregation has a "membership fee". Our's is only $70.00 a year but our congregation appreciates any donations as well. PLEASE write your checks to: Estonian Ev. Luth. Church of St. Paul. Thank you for your love towards your congregation. God bless you all!

This page was lasted edited December 14, 2019


Teenistused:
Manhattanil -
Gustavus Adolphus Lutheran Church
155 East 22nd Street
New York NY 10010
(3rd Avenue & Lexington Avenue vahel)
ja
Bogotal -
Trinity Lutheran Church
167 Palisade Avenue
Bogota, NJ 07603-1633
(Palisade & Linwood Avenue nurgal)
Services are held in:
Manhattan -
Gustavus Adolphus Lutheran Church
155 East 22nd Street
New York NY 10010
(Between 3rd Avenue & Lexington Avenue)
and in
Bogota -
Trinity Lutheran Church
167 Palisade Avenue
Bogota, NJ 07603-1633
(At the corner of Palisade & Linwood Avenue.)
Pastor: Thomas Vaga
Kodus: 732-581-2951
Esimees/Chairman:
Sven Roosild
P.O. Box 623
Shoreham, NY 11786
Tel: 631-744-1090
Laekur/Treasurer:
Eha McDonnell
18 Styvesant Oval
Apt. 10A
New York, NY 10009
2020
2019 Dec - April 2020
2019
2018
Historical
2016 veeb. Jutlus - Piiskop Vaga