---

Koguduse Teated / Notices

---
JÕULU SÕNUM
Missugune mõju ja tagajärjg on jõulupühadel?
Kellega kohtume erilisel pühal viisil? Mulle tuli see küsimus seoses vanast keskajast pärineva eesti rahvalauluga: "Jeesus läks maale kõndimaie". See laul ütleb, et Jeesus tuli ja oli meie rahva seas isiklikult. Jeesus tuleb ja on meie seas ka nüüd. Jeesusest jäi ja jääb jalajälgi meie sekka. Tema jalajälg sai ja saab pühaks kohaks, sest Ta tõi Taeva pühaduse maa peale inimeste keskele. Petlemas asuvas Jeesuse Kristuse sündimise kirikus on Kristuse sündimise tähistamiseks pandud kiriku all oleva koopa põrandasse hõbedast täht. Seda kohta külastavad kristlased kõikjalt maailmast. Paljud neist kummardavad austusega seda kohta ja mitmed grupid laulavad oma keeles jõululaule, nagu tegin eestlastega grupi juhina aastaid tagasi.
See koht Petlemas pole aga ainuke koht, kus Jeesus on tulnud ja jätnud õndsa taevalise jälje. Jeesus kõnnib ka meie keskel. Kas tunneme, et see on Tema, kes on tulnud meie keskele. Me tuleme kohtuma Temaga erilisel viisil jõulupühade ajal. Laulud mida laulame kirikus, tunnistavad seda. Mõnikord tundub, et laulud jõuluvanast on inimestele palju tõelisemad kui laulud Jeesusest. Ja võibolla jõuluvana ootus ületab Jeesuse tuleku ootuse. Mõtelge tagasi, kellest te räägite või olete rääkinud oma lastele ja lastelastele veenvamalt, kas jõuluvanast või Jeesusest.
Jeesuse tulemine meie keskele peaks ületama kõik küsimused ja kahtlused. Usun, et Kristuse tulemine ja meie keskel olemine on elav taeva pühaduse ligiolek, eriti püha jõuluõhtul, mil me laulame: "Oh sa õnnistav, oh sa rõõmustav, püha, kallis jõuluaega! Ilm oli hukas, Kristus on sündind! Ristirahvas, ristirahvas rõõmusta."
Teie kirikuõpetajana ja kaaskristlasena soovin teile, kallid lugejad, Issanda Jeesuse poolt õnnistatud jõuluaega ja uut Issanda aastat 2019.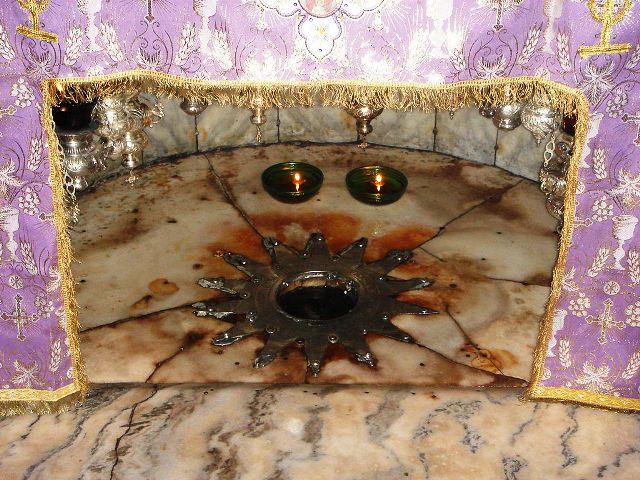 The birthplace of Jesus in the Grotto of the Nativity. Image courtesy of Mark87 at English Wikipedia [Public domain], via Wikimedia Commons https://commons.wikimedia.org/wiki/File:Nativity_Grotto_Star.jpg
What effect does Christmas have on you?
With whom do we personally meet in a holy way? A medieval Estonian poem tells about Jesus coming to Estonia to walk among her people. His footsteps become holy places amongst the people and on the land. The location of His steps became holy because He brought the holiness of heaven down to earth.
In the church of Nativity in Bethlehem there is a silver star on the floor of the cave underneath the church to mark the place of His birth. Christians from all over the world come to view and venerate it as the place where Jesus was born. Groups pray and sing Christmas hymns there. I have had the opportunity to sing with an Estonian tourist group "Silent night, Holy Night".
The place in Bethlehem however is not the only place where Jesus walked and where He has left His Heavenly holy footprints. Jesus walks among us today. Do we recognize Him who has come from heaven to be amongst us?
We meet with Him in a special holy way in church. Especially during the Christmas service. All Christmas hymns that we sing tell us that He has come. Sometimes it seems that songs about Santa Claus are more real to people than hymns about Jesus. Think about it, about whom you have told more to your children and grandchildren: Jesus or Santa Claus? The heavenly coming of Jesus should win over all questioning and doubting especially during the holy Christmas service When we sing "Joy to the world, the Lord is come! Let earth receive her King. Let ev'ry heart prepare Him room, and heav'n and nature sing.". This new born King is Jesus Christ.
As your pastor and fellow Christian I wish you, dear friends, a blessed Christmas with Jesus and a healthy and blessed year of the Lord 2019.
Thomas Vaga, E.E.L.K. piiskop electus
---
Mis on Jumala aadress? Jeesus ütleb: "Mina olen tee, tõde ja elu, ükski ei saa Isa juurde muidu kui minu kaudu." Johannese 14: 6
What is God's address? Jesus answered, "I am the way and the truth and the life. No one comes to the Father except through me. John 14:6
---
Usupuhastuse algusest 501 aastat. Teenistus Bogotas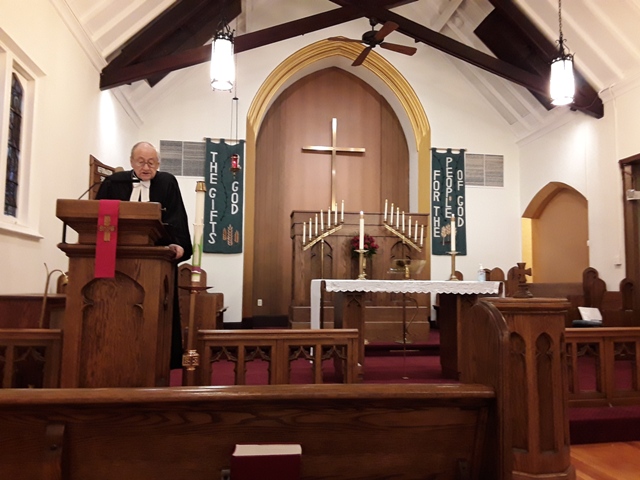 Usupuhastuse 501. aastapäeva teenistus toimus Bogotas, Trinity Lutheran kirikus pühapäeval, 28. oktoobril. Teenis koguduse õpetaja ja orelil organist Mall Kiil. Õpetaja jutluse teemaks oli usupuhastuse kuulutus, mille aluseks on Piibli Sõna.
See "Sõna" ei ole mistahes sõna, vaid see "Sõna" on seotud Jeesuse Kristusega. See "Sõna" on üks ja sama Jeesuse Kristusega. Johannese evangeelium algab: Alguses oli Sõna ja Sõna oli Jumala juures ja Sõna oli Jumal. Temas oli elu ja elu oli inimeste valgus. Aga kõigile, kes Tema vastu võtsid, andis Ta meelevalla saada Jumala lasteks, neile, kes usuvad Tema nimesse. Usk siin tähendab Jeesuse Kristuse absoluutset usladamist. Usupuhastus seab meid suure ja otsustava küsimuse ette: kas me usume Jeesusesse või mitte. Meie vastusest oleneb meie tulevik igavikkus.
---
Martin Luther:
FAITH changes people. It makes them see everything in a new light. Their ears hear, their eyes see, and their hearts feel something completely different from what everyone else perceives.
FAITH is living and powerful. It's not a simple minded idea. It doesn't float around in the heart like a goose on the water. Rather, it's like water that's been heated. After heating the water is different. It's still water, but it's warm. The same thing happens when the Holy Spirit gives us faith. Faith transforms the mind and attitudes. It creates an entirely new person.
FAITH is active, profound and powerful. If a person were to describe faith correctly, he would say it's a process, not a result. In other words, faith changes the heart and mind.
Reason tends to concentrate on what is present -- the here and now. Faith concerns itself with things that are intangible and, contrary to reason, regards them as actually being present. That is why faith isn't as common among people as the five senses are. Considering the number of people in the world, there are relatively few believers. Most people concern themselves with what they can, see touch, and handle rather than listening to God's Word.
KOGUDUSE LIIKMEMAKS ON $70.00 AASTAS
PALUN SAATKE LAEKURI AADRESSILE
Tsekk kirjutada: "Estonian Ev. Luth. Church of St. Paul" ja saata meie uuele laekurile: Rein Uibopuule (vastavad ümbrikud kirjaga kaasas). Palun mitte kirjutada tsekke Bogota koguduse nimele, kuna selle koguduse kassa on tühi ja sellepärast aitab New Yorgi Pauluse kogudus jumalateenistuste pidamist Bogotas ja liikmemaksud ja annetused lähevad NY Pauluse koguduse pangaarvele. Sellepärast on tähtis, et tsekid on kirjutatud "Estonian Ev. Luth. Church of St. Paul" -nimele.
YOUR DONATIONS ARE NEEDED AND APPRECIATED
From years back there is a tradition that the congregation has a "membership fee". Our's is only $70.00 a year but our congregation appreciates any donations as well. PLEASE write your checks to: Estonian Ev. Luth. Church of St. Paul. Thank you for your love towards your congregation. God bless you all!
This page was lasted edited November 26, 2018